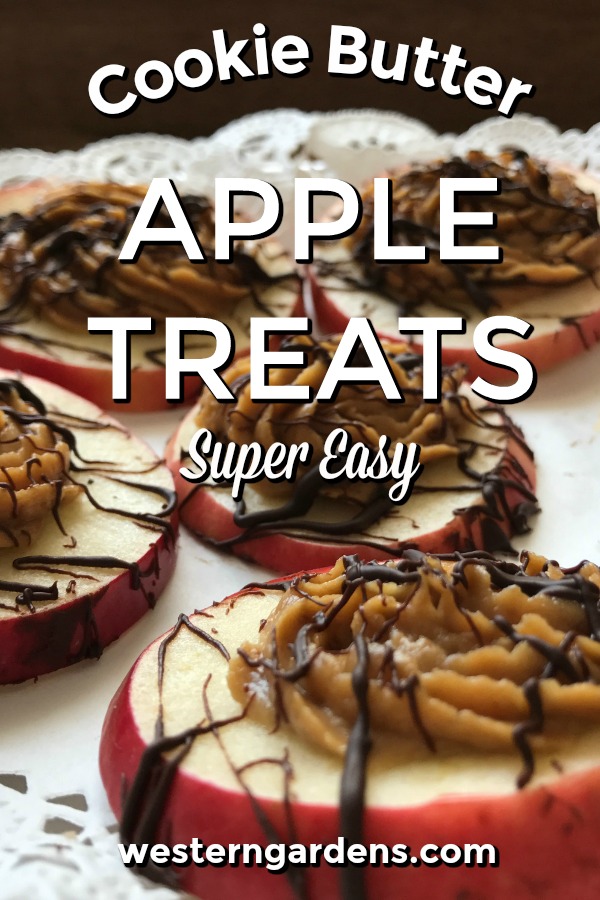 Harvesting your apples?  Been to your local farmer's market and bought a bushel of apples?  Cookie Butter Apple Treats may be a new delicious treat to please the entire family while you are processing your apples for the season.  This simple 4-ingredient recipe is easy and yummy.  Any variety of apple tastes delicious with this cookie butter dip recipe, but we prefer Fuji, Gala, or Pink Lady (whichever is the best price or whichever apple is ripe on the tree).
Cookie Butter Apple Treats Ingredients
8 Tbsp. cookie butter – room temperature (I prefer Bischoff Cookie Butter so I feel like I'm flying on an airplane)
4 Tbsp. vanilla greek yogurt
apple discs – 2-3 apples, sliced crossways
1/3 cup chocolate chips – melted  (optional)
brine – 2 cups water with 3 Tbsp. lemon juice or 1 Tbsp. salt
Directions:
In a medium bowl, add lemon juice or salt into 2 cups water. Stir and set aside.
In a second medium bowl, combine cookie butter and yogurt.  Stir mixing well and set aside.
Take your whole freshly harvested apples and slice them crossway through the center of the apple.  Apple seed "star" should be in the middle of your circle or disk.  Remove the seeds or centers of each apple disk using a tiny round cookie cutter or a knife. Your apples now look like skinny flat discs or donuts.
Place the apple slices into the lemon or salt brine.  Let soak for 1-2 minutes. (This will keep the apples from turning brown.)
Place apple slices on a clean dishcloth or paper towel.  Flip them over so both sides are now somewhat dry.
Using a large piping tool,  pipe the cookie butter mixture in swirls on top of the apple discs.  (I like to use the Pampered Chef Easy Accent Decorator)
Refrigerate and serve.  Yum!
Optional – Melt 1/3 cup chocolate chips.  (Use double boiler on stove or microwave 10 seconds at a time until the chocolate stirs smooth.)  Drizzle or flip with a stick the chocolate over the apple discs.  It is very wise to wear an apron for this task.
If you don't want to do the apple disks, you can simply place the cookie butter dip in a bowl surrounded by any variety of apple wedges reading to scoop.
Cookie butter apple treats are a real crowd pleaser!  And even more delicious and satisfying when you grow and harvest your own apples!  Let Western Gardens teach you how to choose an apple tree for your yard.  It doesn't have to grow super big to have a delicious harvest.