1. DO Plant Like Herbs Together. Certain herbs grow better together. Herbs like basil, cilantro and parsley need more water compared to other herbs like rosemary, oregano, sage or thyme who prefer to have a drier soil. You can ask a Garden Solutions Expert at Western Gardens if the herbs you want to grow will work well together, if you're unsure. Also, some herbs don't do well in the cold. Check to see what herbs can handle cooler temperatures.
2. DON'T Plant Different Varieties of Mint Together. Mint plants including spearmint, peppermint, lemon mint and more like to spread their roots. Because of this, if you plant them together you will get a mix of flavors in the plants and sometimes (well, most of the time) they don't taste right. If you want to plant multiple varieties of mint, make sure to use separate containers!
3. DO Make Sure Your Herbs Get The Right Amount Of Sun. All herbs love the sun. I made the mistake of leaving the first herbs I grew on my east facing front porch and they only got about two hours of sun a day. They withered away to nothing within a week. Now I have a lovely herb garden in my southwest facing bedroom. Most herbs like at least 6 hours of direct sun light a day.
4. DON'T Water Too Much (Or Not Enough). Herbs will thrive best with the correct amount of water.  A good rule of thumb is if you put your finger (or a popsicle stick) into the soil and it's just barely moist  about 1″ down, it's time to water again. I water my cilantro, basil and mint daily but my rosemary and thyme I water only every other day.
5. DO Get A Pot(s) That Has Enough Room For Excess Water To Drain. Plants don't want to sit in cold, wet soil. Make sure to get a pot that has a large drainage hole for the excess water to leave. You can also buy liners to put in your pots that help drain water as well. Western Gardens has a huge variety of pots in every size and variety.
Do you grow your own herbs? Want to, but don't know where to start? Head in to one of our locations and talk to a Garden Solutions Expert; they are happy to help you start your herb growing adventure!
Need some inspiration on fun ways to plant your herbs? Check out this post: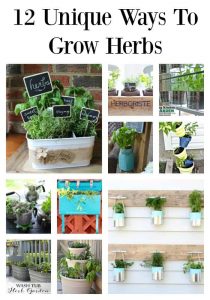 12 Unique Ways To Grow Herbs
The following two tabs change content below.
Sydney is a stay-at-home mom to two active boys and one on the way. When she's not chasing after her littles, she enjoys cooking, crafting and making her house a home (without spending a fortune). For fun, easy and affordable recipes, crafts and local events be sure to follow Tastefully Frugal on Facebook and Instagram.
Latest posts by Sydney Anderson (see all)