Welcome!  I'm so glad you're here!
Are you looking for a simple, inexpensive present that the moms in your life will not just cherish, but enjoy every day?  Then create this bright and fun Mother's Day gift, with the help of little hands!
Mother's Day is right around the corner. Somehow this holiday always sneaks up on me! Maybe it's because we have 5 bazillion birthdays from March to May or maybe it's because with the warmer weather, I want to spend every waking moment outside; but it seems like I always remember Mother's Day the Friday before and am always scrambling to make something for the moms in my life. But not this year!
I've learned that handmade gifts are the way to go when it comes to moms (and grandmas). Not only do they always bring a smile to their face, but it's also more fun to make gifts. And it's a lot more affordable too!
For this gift, I enlisted help from my two partners in craft. This gift couldn't be any easier to make, and what kid doesn't love getting a little dirty?!
Mother's Day Flower Pots
Supplies
Terra Cotta Pot

 –

I used a 6″ because it was the perfect size for my boys' hands. You may want a bigger or smaller one depending on how big your kids' hands are.

Saucer to go under the pot

 – This terra cotta saucer costs about $1 but you can get a plastic one for much less.
Paint – I like using acyrlic craft paint (like these) because it dries quickly and is easy to clean up.
Sponge Paint Brush(es) (optional) – I've found after doing hand print art with my boys, the hand prints turn out clearer if you brush the paint onto their hands instead of letting them put their hands in the paint by themselves.

Sharpie

Flowers

– you can buy them now or wait until you're ready to give your gift. Western Gardens always gets a big shipment of new flowers just before Mother's Day.
Potting Soil
Directions:
Pick mom's 2-3 favorite colors (or let your kids pick their favorite colors) and pour some on a paper plate.

Using your paintbrush, paint the first color on one of your kids' hands (You can also let the kids press their hands in the paint if you don't have a paintbrush).

Press hand firmly along side of pot.

Paint the next color on the other hand (or next child's hand) and space about 1″ from the first hand print on the pot.

Continue with same color pattern spacing about 1″ from the last hand print until you've covered the whole pot.

Using your Sharpie, write Happy Mother's Day 2016 on the rim of the pot. (I thought about attaching a tag that said Happy Mother's Day 2016, but I know the tag will probably get lost, and in 15 years I probably won't remember what year we made this!)

Plant flowers and give to mom.
What is your mom's favorite flower? How great would they look in one of these pots?! Check out Western Gardens for a huge selection of flowers any mom would love.
Here are a few more Mother's Day gift ideas: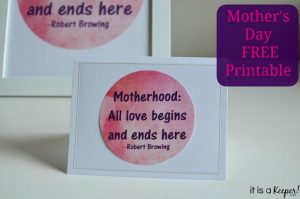 Mother's Day Free Printable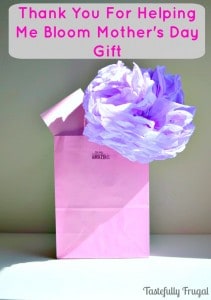 DIY Tissue Paper Flower
The following two tabs change content below.
Sydney is a stay-at-home mom to two active boys and one on the way. When she's not chasing after her littles, she enjoys cooking, crafting and making her house a home (without spending a fortune). For fun, easy and affordable recipes, crafts and local events be sure to follow Tastefully Frugal on Facebook and Instagram.
Latest posts by Sydney Anderson (see all)